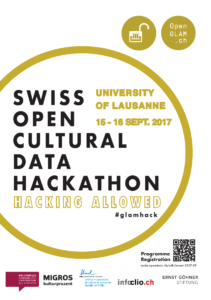 Registration for the third Swiss Open Cultural Data Hackathon is open.
This year's event takes place on 15-16 September 2017 (some workshops starting on the 14 September already). It is hosted by the University of Lausanne and supported by the Bibliothèque cantonale et universitaire de Lausanne, by the Laboratoire de cultures et humanités digitales (LADHUL), Infoclio.ch, Ernst Göhner Foundation and Migros Kulturprozent.
Participants are asked to sign up by the end of August 2017: Programme & Registration.
Please help us spread the word online and offline. If you would like to distribute flyers, you can download the files for self-print out or get in touch with beat.estermann(at)bfh.ch: